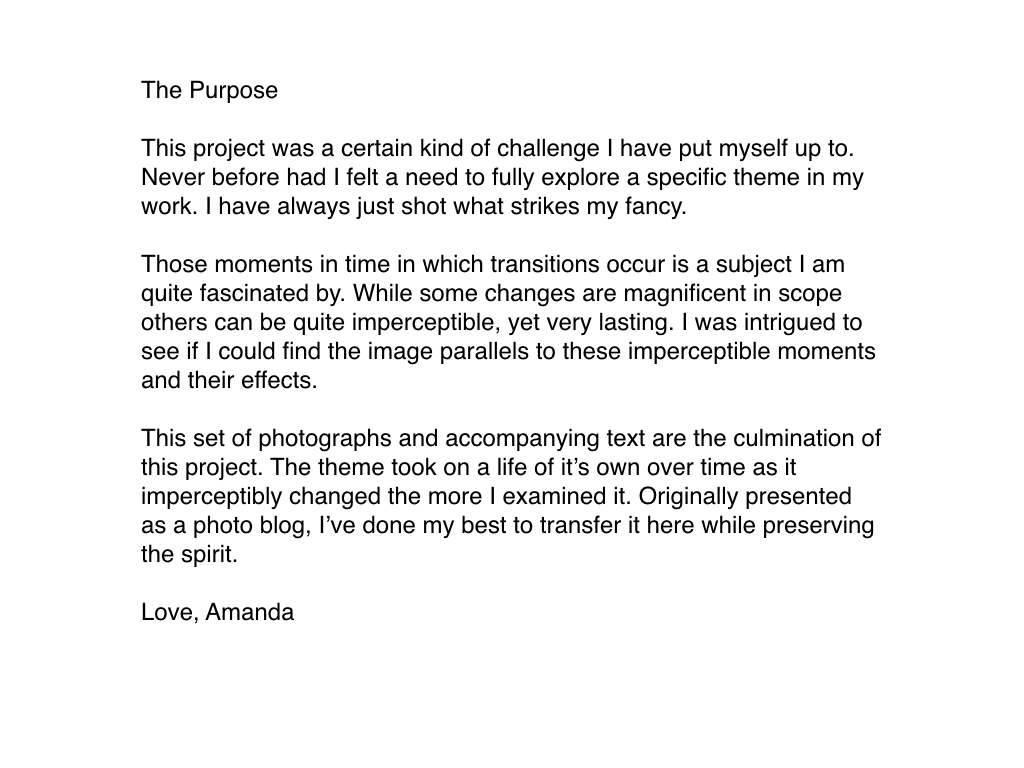 Prospect Expressway Overpass, Brooklyn NY
Time Flies
I walked past this place often. I've always enjoyed watching traffic moving, wondering about all these people. What they're thinking, where they're going, what's happening in their lives. The sun sets as I'm walking home from work. It all just keeps moving on, changing little bit by little bit over each moment.
Prospect Expressway, Brooklyn NYC
(Im)permanence
It was frigidly cold the morning I took this photo. In fact, the only reason I went out that day at all was for this image. It had been haunting me for weeks and the sky and light was perfect on this day. There are a couple things going on here that I love. The accumulation of salt on the street to me is beautiful. Especially as it will wash away and be gone come spring time. The act of laying the salt is impermanent, but the slight wear and damage to the street is lasting. Secondly, on the bridge there were at one point some things attached to the topmost concrete barrier. Long gone now, only footprint shaped specters remain. The happening in this sense is a loss, but the change is permanent.
Highline, NYC
Solo
This is another one that's been in my head for a while. I'm not entirely sure why this feels like it needs to be a part of this series, but it does. Maybe it's the perspective. Maybe its the smallness of the person moving among the still concrete.
Playground, LES, NYC
Just turning to spring. This day was alternating warm and cool, sunny and rainy. I was excited for the change in season and hit the streets. Kids are always easy subjects for tackling the notion of change. This playground has been here for decades, and there's always new kids. Permanence/impermanence. Moving, changing, growing. Staying the same.
Crossing the FDR at Delancey Street, LES, NYC
Remember. Teenagers in the spring.
East River Park, LES, NYC
Prospect Expressway Overpass/4th Avenue, Brooklyn NYC
Stagnation/Changes
I've been thinking a lot about this project, even in my inaction. There was a point a few weeks ago that I almost decided to give it up for folly. But I decided to press on.
But it's funny how as a season drags on, the feelings of transition slowly fade. There's a few weeks, a month maybe, of idle sameness. I started taking photos of clouds and let this project linger a bit.
Then I travelled and lots of little transitions came to me. The project has begun to change in my own perception of it.
Bayer Corporate Complex, Berlin, Germany
Shades
This may be my favorite in the series so far. Everything from the different gradients of blue, the dated architecture, the quietness, the birds flying overhead. Each part of it changing at it's own pace. I spent so much time photographing here that I began to fear piquing the interest of security
Somewhere in Berlin, Germany
Passing
This is the most abstract image thus far, and one of the few abstract images inspired by this series. This image spoke to me of time passing, with each moment having the potential to be different, altered, yet still a continuation of the prior moment.
Neue Nationalgalerie, Berlin, Germany
Neue Nationalgalerie, and St. Matthäus-Kirche, Berlin, Germany
Juxtaposition
I found myself admiring the intersection of new and old. The layering of time and the physical artifacts of the passage of time.
Mountain Lake, Potsdam, Germany
Growing Young
As day crosses into evening, the lines between play and adulthood are blurred. Germany does relaxation so much better than America does. This photo might be an illustration of a tiny personal change rather than something more universally understood.
Mass Turnpike, MA
Slow, Washing
We were creeping through traffic in Massachusetts, the grime from NYC slowly washing off the car. Getting there slowly, autumn leaves changing.
Monhegan, ME
Stalwart
This building looks as if it could wash into the ocean at any time. It would take just one big storm. Yet it's been standing there over 100 years. Battered by the waves, flooded numerous times. The detritus of seaweed at it's doorstep. Like a salty old fisherman in my imagination.
Self-portait, Canal St. Martin, Paris
I've been waiting till this most recent trip to Europe over Christmas and New Years to add more photos. This series didn't want to move forward till then. Now that I've processed the images, I think I'm done. Winter is here again. The floodgates are opened.
Archway, Volkspark Rehberge, Berlin
I have so much work that wants to be made. In thinking about imperceptible changes in general, I've been able to dissect how my own approach and feelings towards my work has changed. It's been a long time, but I feel like I'm coming through to the other side.
Winter Field, Volkspark Rehberge, Berlin
Now it's time to let this work lay fallow for a time. We'll see what the sown seeds shall become. I think it will be beautiful.
Thank you.